In this post I'm going to take through a reveiw on fiverr's affiliate program from start to finish and how i'm making over $3000 per month using fiverr's affiliate program..
I'll be taking you through:
An honest review on fiverr's affiliate program …
Fiverr's affiliate program sign up (with approval tips and tricks)..
Getting your affiliate links once approved..
How to promote these affiliate links and the exact traffic sources that I am using to bank $3000+/month..
How to withdraw your and get paid money once it starts rolling in..
With that being said.. Let's jump right into it:
#1. An honest review on fiverr's affiliate program:
I must say.. Fiverr's affiliate program, was a great game changer to my affiliate marketing journey because it has a wide variety of things to promote on a blog.. And as a plus to fiverr's affiliate program. I think it's one of the best affiliate programs out there in terms of versatility. Fiverr's affiliate program offers a lot of services for any niche. But the only down side to fiverrs affiliate program is that they pay for first time buyers only.. This means that if you refer someone who already had signed up for fiverr and the person buys a product you won't get any commission and that you'll only get a commission when the person is using fiverr for the first time and has not had an account.. But one good stuff is that they'll pay you 300% commission on sales that you generate.. So generally I think Fiverr's affiliate program is a good one work with..
#2. How to signup and actually get approved:
When it comes to signing up for fiverrs affiliate program, you can actually get your application disapproved.. But don't worry, cause if you follow what i'm gonna show you.. Then you'll get 100% approved into the program.. So. First of all you'll have to get to the fiverr affiliates sign up page.. It'll look just like below..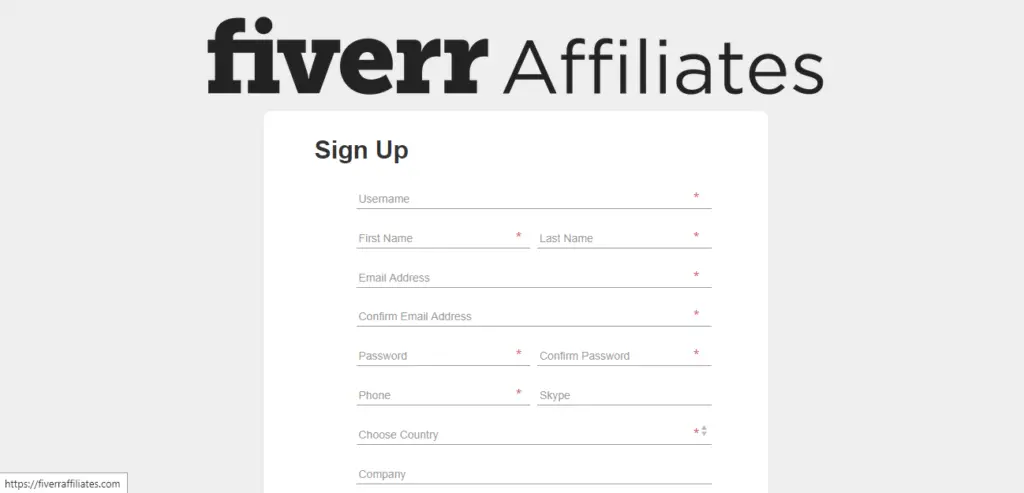 Once you're on the page.. You have to fill out all the required information, which include your username, first name, last name, email address, password, phone, Skype, country, company and finally your website.. Once you've done this.. You'll have to not make one mistake which is.. "do not put just any website or Skype or phone number" you have to put your right phone number. respective to your country, a valid sky id (If you don't have one then create one IT's FREE) and make sure you put in a valid website URL (If you don't have a website then a You Tube channel would be an option) but if you still don't have a You Tube channel.. Then go on google.. find any business website, copy it's URL that has content and input it right there.. And you'll get approved (100% guaranteed)..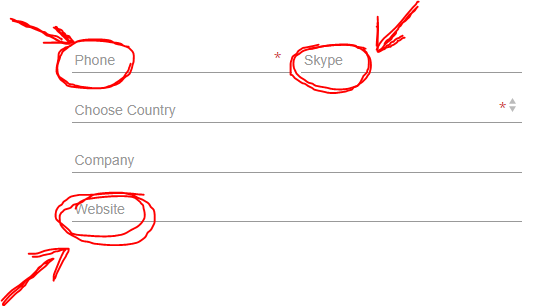 Once all this is done.. You should receive an email that looks exactly like the one below only if you actually followed my steps as regards getting approved as you will only see this email. If only you got approved in to te program..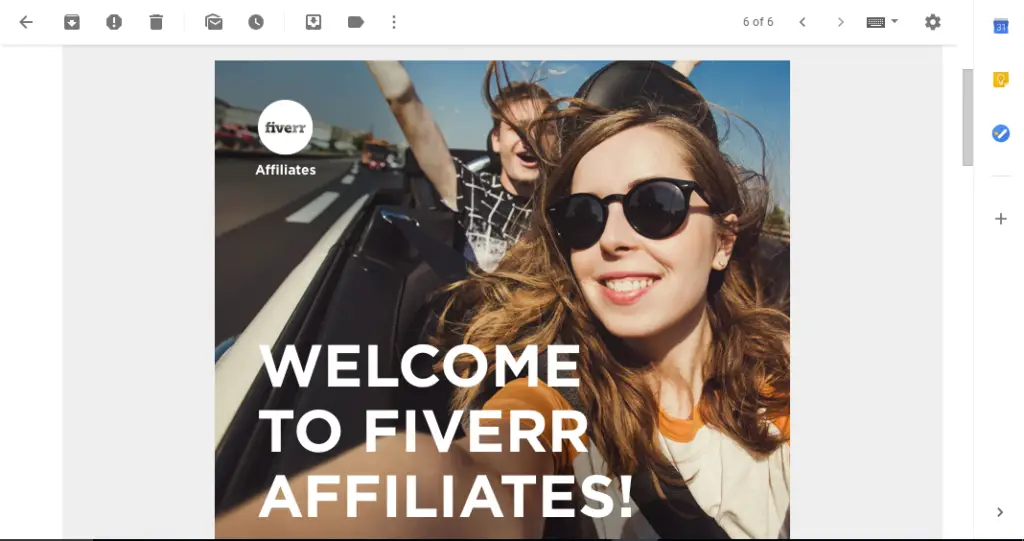 After you've seen your approval email.. You should scroll all the way down in the email and find where it says login to your account in the email.. Just like in the image below..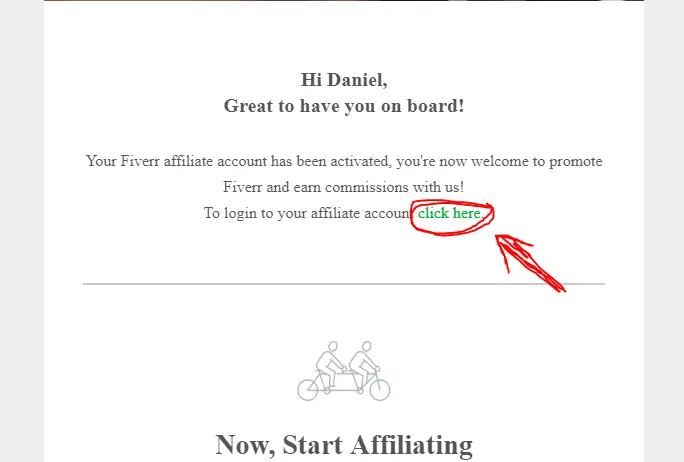 All you got to do is click the spot that says click here and you'll be taken to the page below, where can enter your log in details and login ti your fiverr affiliate program dashboard..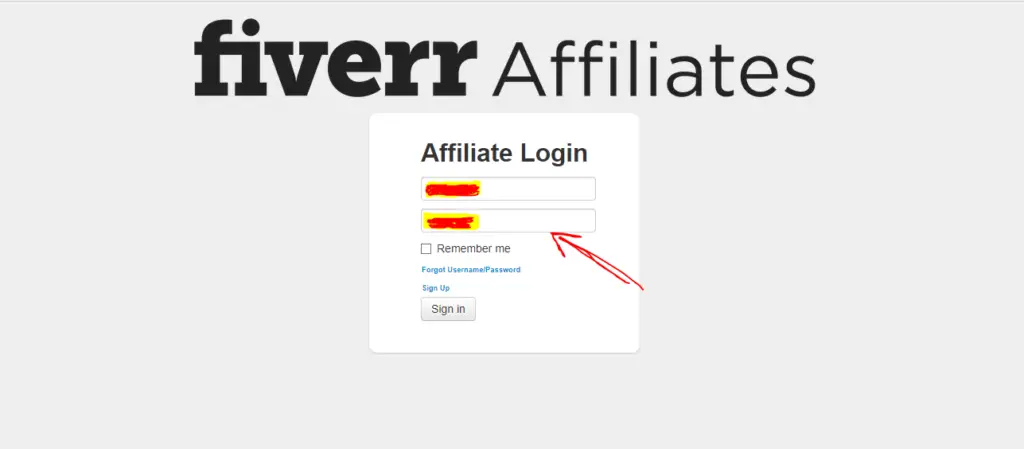 With the above steps all done, we'll head over to the next step below..
#3. Getting your affiliate links once you have been approved..
So as regards getting your affiliate links once you have gotten approved and you've logged in to your fiverr affiliate account.. Your dashboard is going to look something similar to the one below..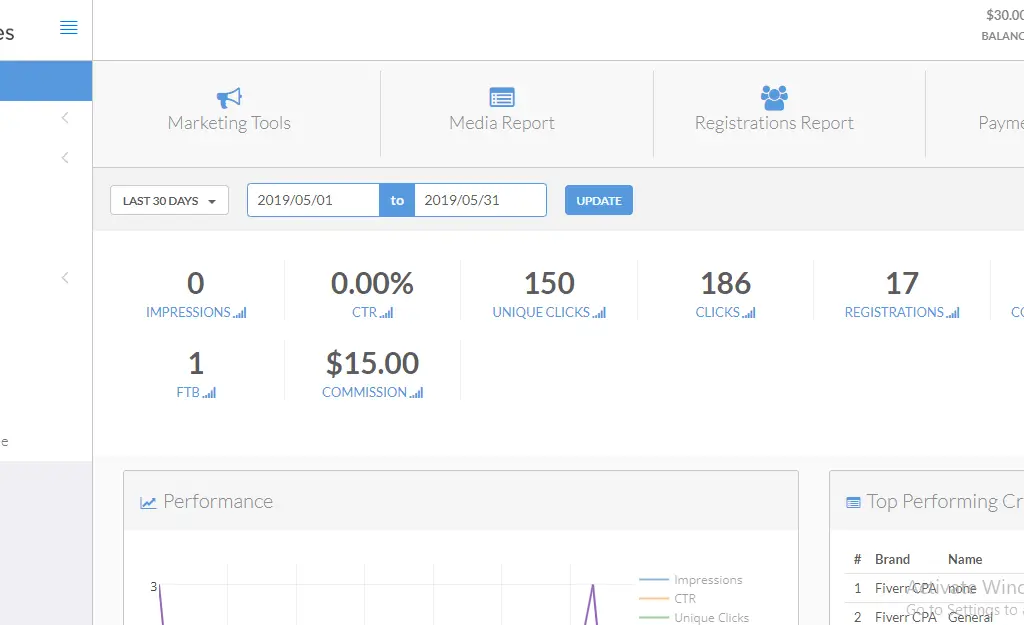 Once seen,on the right corner of the dashboard that you currently see above you'll see a lot of options over there, but out of all those options we should be clicking on "marketing tools" as shown in the image below..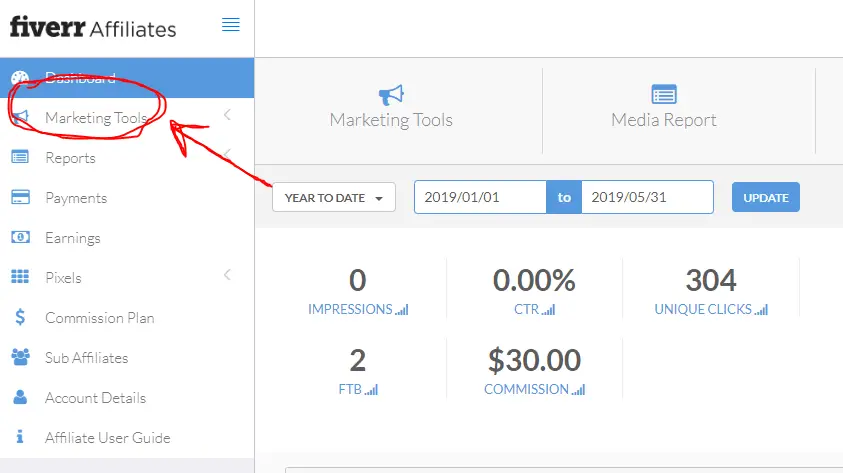 Once You have clicked on "Marketing tools" its going to drop down 3 other options namely "All marketing tools", "private Marketing tools" and "Default and deep links" in the drop down as shown in the image below: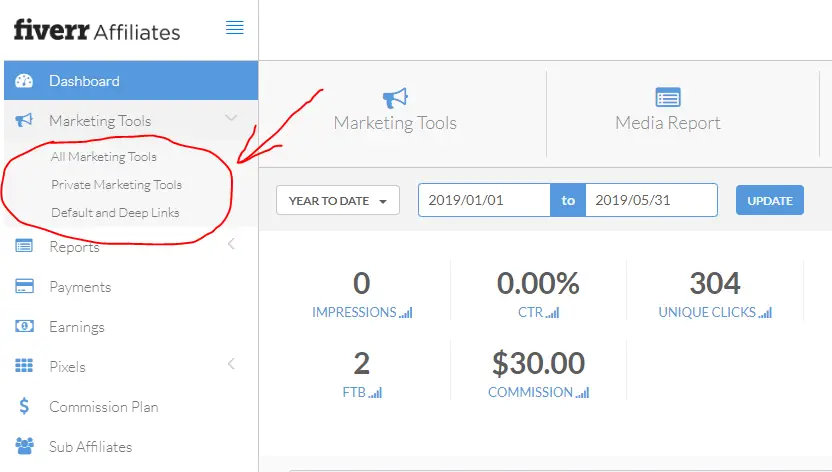 So In other to get your affiliate link through which you can make money on the fiverr affiliates platform you should be clicking on the default and deep links option and once you have clicked on that, It's going to show you two links just like those in the Image below: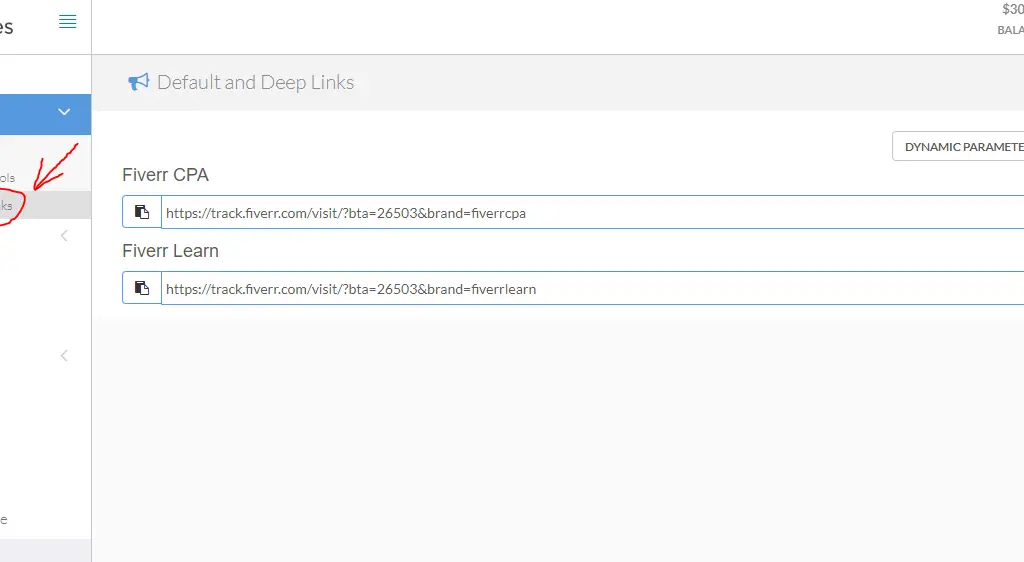 The one that says Fiverr CPA is the one that actually links to the fiverr platform where digital services are sold and the other link that says Fiverr Learn is the one that links to fiverr's course platform.. So all you basically have to do is just copy the links depending on which one of the platforms you want to promote within fiverr you want to promote and keep the link with you.. And that's how you can get your affiliate links on the fiverr affiliate platform and that will take us to the next step which is
#4. How To Promote Your Affiliate Links & Bank $3000+ Per Month
Banking $3k+ per month on a single affiliate program sounds pretty great right? dont worry cause I'm going to be showing you guys exactly how I do this consistently every month without having to spend a dime on ads..
I will give you guys the top 3 traffic sources that I use to promote my fiverr affiliate links in other to enable me make $3k+ per month online below:
Traffic Source #1: Quora
So guys, quora is a website where people come to ask questions and receive answers.. So we will be taking advantage of this to find people whom are asking questions like "Where Do I Find Freelancers To Write Articles For My New Website?" and once we find this kind of questions we just go ahead and answer them.. Then in the answer tell and introduce them to fiverr then at the end of the answer link to fiverr with your affiliate link.. And You will be surprised at how much traffic you will get from there and as well the sales that will follow!!
Traffic Source #2: Pinterest
Pinterest is a huge traffic source and most of us might have heard f it while some of us might not.. So Pinterest is a search engine that is similar to google just that its search results come out as images popularly referred to as pins on the pinterest platform ..
So what we basically want to do in other to start getting the traffic is to do a keyword research on pinterest and find keywords like "How To Get Content For Instagram" Because we know that there are people on fiverr that offer Instagram content creation services then we can easily create a pin linking to fiverr with our affiliate link and then optimize the pin to rank on pinterest for that specific keyword as well.. That way when people search for "How To Get Content For Instagram" Your pin will show up and when the click they'll be redirected to fiverr and when they get an account and purchase an instagram content creation service.. You'll get paid.. So that takes us to traffic source #3
Traffic Source #3: YouTube
So guys, YouTube Is my biggest means of sending traffic to the fiverr affiliate program and all i simply do is just do some youtube keyword research and find good keywords that i know that people searching for those keywords would be interested in fiverr if i told them about it.. Then all I do next is just make videos that are optimized around those keywords and then in the videos tell them about fiverr and as well drop my fiverr affiliate link… FEEL FREE TO CHECK OUT MY YOUTUBE CHANNEL..
SO, guys If do the 3 methods that I have shown above you will be definitely thrilled with your results and hang on guys because I'm going to show you how you can withdraw your cash from fiverr's affiliate program below..
#5. How To Withdraw Your Money From Fiverr's Affiliate Program:
Once you've started seeing the money on fiverr affiliates dashboard, the next step that you wanna think of taking is actually withdrawing your money from the platform and don't worry because I'll show you how to do that right away..
So, guys in other to withdraw your money from fiverr's affiliate program, what you'll have to do is first of all on the left side of your screen while you're on your fiverr affiliates dashboard click on "Account Details" like it's shown in the image below: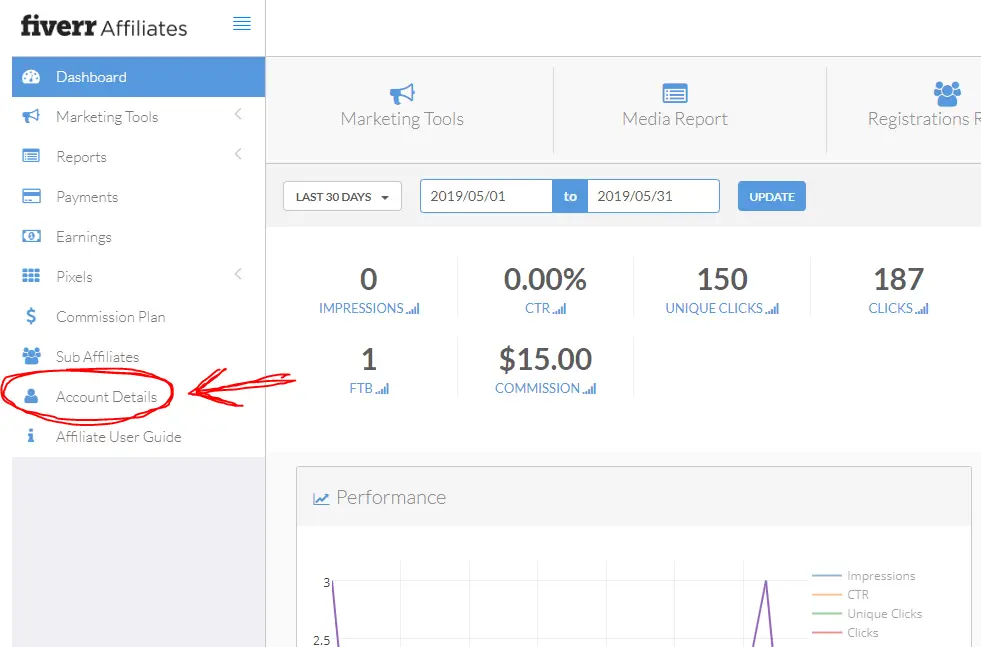 Once you click on "Account Details", It's gonna show up a page that looks something like the one in the image below: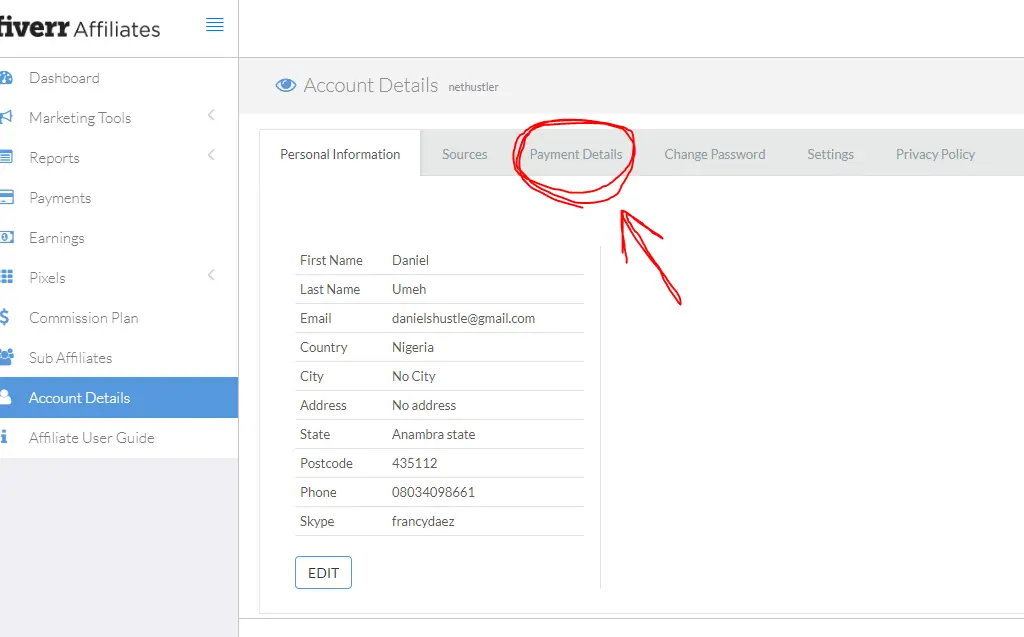 And On the above page you have to click on "Payment Details" as shown by the red arrow above and once you click on it you'll see a page that looks exactly like the one below..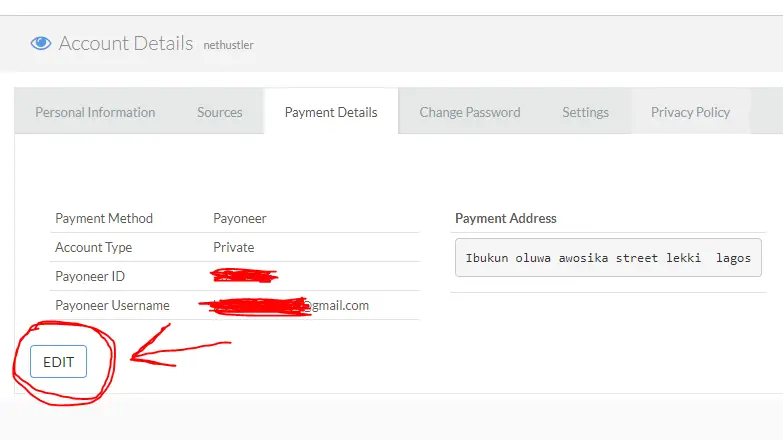 On The page above you can then click on the "Edit" button to change your payment details into whatever means you want to use as regards receiving your payments from Fiverr's Affiliate Program.. Click Here Now To Join Fiverr's Affiliate Program.. And Start Making The Money..